The Best Inexpensive Gym Equipment For Home Isolation Workouts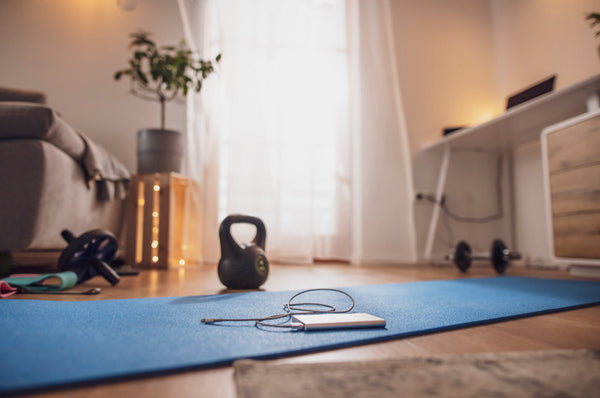 In an unprecedented sequence of events, gyms are now closed across the country to stop the spread of COVID-19. People are being encouraged to work from home and stay inside whenever possible, only leaving for exercise and other essential reasons. 

For many across the country, going to the gym was such an essential part of life. Not just physically, but psychologically and even socially too. These difficult times make it even more important to maintain a consistent exercise regime to stay fit healthy until everyone can find themselves back in the gym when we pop out the other side of this. 

How do you work out from home? The first thing is to accept that we were spoiled at the gym with all the equipment. I am also going to assume that everyone doesn't have the option to go all out a drop a thousand or more on an elaborate home gym setup, especially with so much economic uncertainty in the air. With a bit of creativity, some dedication and really basic equipment, you can continue to have decent workouts at home until this pandemic passes us by. 

Let's take a look at some inexpensive and extremely basic equipment that you can use to put together your pandemic home gym and have yourself some solid workouts.
Resistance / Power Bands 
A set of resistance bands are the cheapest and most effective piece of gym equipment you can purchase for home workouts. Bands can be used to add resistance to train every muscle group, with a lot of creative options for exercises.
Bands can add resistance to existing bodyweight exercises that you may already be doing at home (like bodyweight squats, push-ups and bench dips, etc.). Particularly, they are useful for hitting the muscle groups that are a little bit harder to do with bodyweight alone, such as back, biceps and legs. Just look on Youtube, and you will find ways to train anything and everything. 

You can pick them up for a reasonable price online, and they generally come colour coded, with different colours being different levels of resistance. They don't take up much space, either. 

Just to get you started here are a few of my favourite exercises: 


Adjustable Dumbbells 
Your first experience of working out was probably with a crusty old set of adjustable dumbbells in someone's garage before you graduated to going to a gym laden with top-notch equipment. Now, having a pair of dumbbells at home is a godsend. There isn't much you can't do with a set of adjustable dumbbells a bit of creativity and motivation. You can give every muscle in your body a really solid workout. 
Obviously, you can do all your standard dumbbell exercises such as lateral raises, curls, lunges and rows that most people have in their routines anyway. There are also some not so obvious options. If you don't have a suitable bench you can use for dumbbell press; you can opt for dumbbell floor press. For legs, you can do dumbbell goblet squats, dumbbell front squats, and dumbbell deadlifts. Even kettlebell swings, but with a dumbbell are a great option. The possibilities are endless. 
Adjustable dumbbells can be found online at most sports and fitness stores; however, it turns out most of Australia is after a set too, as a lot of places are sold out. You might have to look on Facebook marketplace, Gumtree and eBay instead. 
Kettlebell/s
Next on the list is a kettlebell or some kettlebells. These can come in varying weights and can be used in pairs or singularly. There are adjustable versions available too. Even if you can get your hands on just one kettlebell with a decent weight, you can have yourself an amazing full-body strength and conditioning workout. 

If you are used to more typical ''bodybuilding'' style training, learning to use a kettlebell could be an interesting endeavour to expand your training tool kit. 

Popular exercises are things like kettlebell swings, cleans, goblet squats, bottoms up press, and snatches. Youtube has some great tutorials and workout examples. 

You can buy kettlebells from a variety of fitness and gym equipment stores, however, a lot are sold out. Have a look on Facebook marketplace, Gumtree and eBay too to try and score some second hand. 
Suspension Trainers (TRX's) 
Suspension trainers are another relatively inexpensive option for home training, leveraging your body weight/gravity to provide solid workouts until gyms reopen. There are hundreds of exercises you can do with these, they take up very little room (making them perfect for studio apartments), and they come with door anchors so you can just use any old door to lock them in place. 

Again, you can pick these up everywhere online and have them shipped to your door (the same one you can use to work out with it from). TRX is the main brand, but there are a lot of similar options that are probably cheaper, just be mindful of quality. Just type ''suspension trainer'' into google. 
Honourable mentions:  
Skipping / Jump Rope 
The most obvious choice for cardio is going outside for a walk or run. That is free. If you want to do some cardio from home though, the cheapest and most effective way is to get your hands on a skipping rope. You can pick them up online anywhere, they are portable and get the heart rate going. 


Yoga Mat
If you have floorboards or are working out on the balcony, a cheap yoga mat provides comfort when doing anything off the floor. 
Microbands 
In addition to the longer resistance bands mentioned above, there are also smaller versions generally called ''microbands''. Like the larger resistance bands, they generally come colour coded, each colour representing a different level of resistance. These are great for glute and leg exercises, and a set can be picked up for next to nothing. 
Wrapping Up
Exercising consistently is extremely important to assist in maintaining good physical and mental health throughout this pandemic. With a few small items and a bit of creativity, you can continue to have solid workouts until gyms reopen. 


Stay safe! 

-Bucky