ATHLETE SPOTLIGHT: Harry Turnbull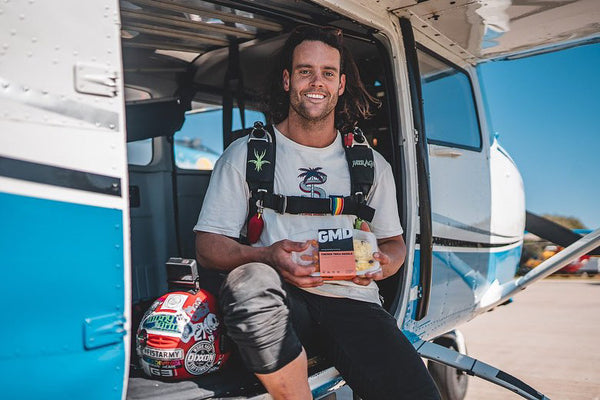 Hey Harry, tell us a little about yourself and your daily routine.
I am 28 years old and live in Canberra, where I was born and raised. Currently, I work in construction, and am fortunate to be a part of my family's business. The majority of my training is devoted to CrossFit, and I get the blood flowing on the weekends by skydiving and surfing. Traveling down the coast is something I love to do on weekends and making the most of my time.
On a typical weekday, I wake up at 4 a.m., drive twenty minutes into town to get to the gym at 440 a.m. to begin training. I complete a pre-programmed workout prior to the 530am Hiit Republic class. I always get a coffee with the gym crew after the gym, then it is off to a typical 8-hour work day swinging off shovels and crowbars and pulling in cable all over Canberra. After work, I will either complete my programming or get to the pool for some laps or a run, followed by a sauna or an ice bath. At around 6 p.m., I get ready for work for the following morning and eat dinner. Watching a show after dinner while stretching and moving my body is a great way for me to unwind after dinner. As soon as that is done, I go to bed at 8 pm to prepare myself for the following day. 
Typically, I start my day with raisin toast before the gym, followed by a protein shake afterward and coffee. Smoko is at 9 am, and I have yogurt with granola, berries, nuts, bananas, honey, peanut butter, and an apple. For lunch, I will eat a Gym meal with oat bars and another yogurt pouch. Lately, I've been having tuna on rice for afternoon tea. Typically, dinner consists of meat, veggies, and carbs.
What keeps you motivated?
My theory on motivation is that you don't stay motivated. Discipline is developed. As a disciplined person, I know the benefits it provides me mentally and physically every day. Each day, I strive to be better than I was the day before, even if it's only by 1%. My goal is to maintain an upward trajectory in all aspects of my life.
How has GMD helped so far?
GMD has helped me dramatically on my journey over the past few years. It has made staying on track with my diet easy. The GMD Meals provide me with the food conveniency I need in my on-the-go lifestyle, and are delicious!
Favourite all time GMD meal?
My favourite gym meal is chipotle chicken!