ATHLETE SPOTLIGHT: Jake Sbroja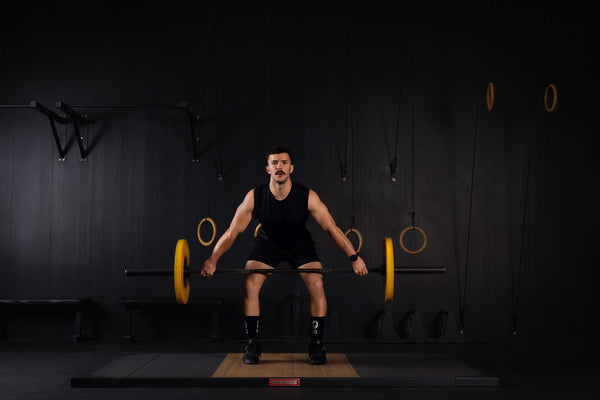 We are lucky to work with some of Canberras best Athletes and PT's. Jake from Performace Fitness Training i
nitially started his business with the goal to focus on athletes, Jake soon realised that his passion for exercise and people didn't stop with athletic populations, and now extends to special populations and personal training for all people.
Could you tell us a bit about yourself and your business
I run a Health and performance training business where I use exercise to help people reach their goals and improve their lives! I have been running this business since 2015. 
Besides that i train full time doing olympic style weightlifting in hopes of taking that as far as i can. I generally enjoy doing all things exercise and fitness, which includes walking my dog, mountain biking, and hikes when I can. 
I love helping people with their health and performance and can't see myself doing anything else!
What's a day of eating look like for you? 
I am very busy each day and only have so much time to eat and have specific daily requirements (very sad about that ahah). So a typical day looks like:
Breakfast is usually a protein shake + Coffee
Lunch time is a gym meal + fruit
Lunch no2 is another gym meal + peanut butter sandwich of some sort
Dinner is another gym meal 
Another protein shake before bed
How has GMD helped in your journey so far?
Gym meals take the cooking, preparation, and thinking out, which allows me to work, train and enjoy life more. 
I know they are healthy, well balanced and taste good which means its a no brainer. They also have lots of vego options which is nice when I transition back to a plant based diet throughout the year. I originally used them to help me cut weight for competitions and then just started using them normally after that.
What keeps you motivated? 
You only have the opportunity to try to achieve your goals once, so I want to make the most of that time now while I am still able! All my goals add value to my life in some way so i am eager to work at them.
How do you keep your clients motivated?
Working on building intrinsic based goals is the best way! Intrinsic goals for the client, creates autonomy which leads to continued good habits and success! Also making sure to keep it enjoyable and making them feel good throughout the process.  
Any advice for those looking to start hitting the gym?
Start off in a way that allows you to be consistent. It doesn't matter if that is a 10 minute treadmill walk a day or 5 gym sessions. Once you have developed consistency, slowly shape how you train towards the goals you want to achieve! Hire a professional to dramatically speed up the process and take the guesswork out,  
Any advice for those looking to take their training to the next level?
Get in touch with an expert. Investing in someone who can help guide you will do wonders for your progress and outcomes.
(send me a message ;) 
Tell us, what does a typical day look like for you?
I typically get up around 4:45am to 5:00am (as late as possible) with my first block of clients from 530-11am. Then I train for 2-3 hours, walk the dog, and go back to admin work, business calls and lunch. Anywhere from 2-3pm I start work again with my next block of clients until 8pm. I do this Monday to Friday and keep weekends clear from work!
What is your favourite GMD meal?
I am a sucker for the coconut curry lentils at the moment! 
Want to get in touch with Jake?