ATHLETE SPOTLIGHT: David Pennimpede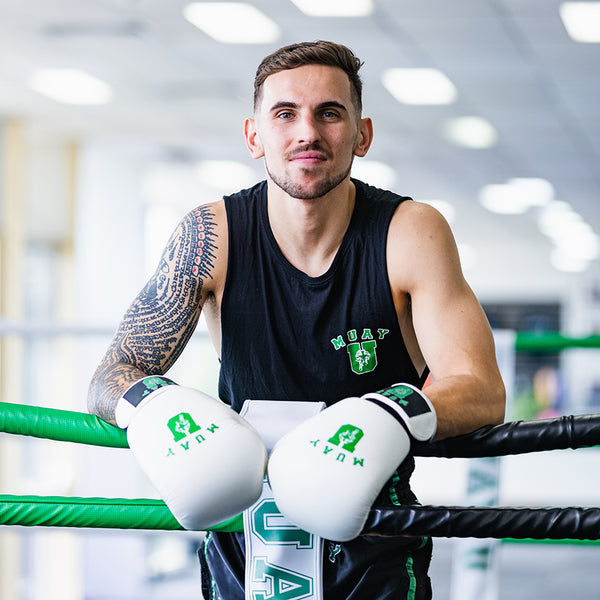 This coming March 26 on the Gold Coast, will see David take on his biggest challenge to date, fighting Youssef Boughanem from Belgium. His lists of accolades and titles are endless and has over 200 fights to his name. Follow David here  to watch his lead up to the event and show your support! 
How did you first get into Muay Thai?
I originally started in a kickboxing & Martial arts gym when I was 10 and did that for 5 or so years. It wasn't until I moved to a small town of South Australia, called Whyalla, that I discovered Muay Thai. From my first session I loved it. The speed, power & physicality was something I had never experienced before, I was hooked!
What would you say to someone looking to start training and competing in Muay Thai?

Do your research and find a gym with the experience, accolades and team behind them. Be willing to put in the work and take your time. It won't happen over night. It takes a long road to step in the ring, hours upon hours of hard work, commitment, sacrifice and grind.
It's also important to take the sport serious and give it the respect it deserves. I've seen a lot of people start training with the ambition to fight, but when it comes down to it, the commitment, the drive and the desire isn't there. This sport is hard and if you don't want to fight, that's 100% fine, fighting isn't for everyone. But, if you say you want to fight, you have to be ready to show it.


How has Muay Thai helped you throughout life so far?

The lessons Muay Thai has taught and given me over the years I'll carry forever. A big one that stands out is humility, if you're not humble, the sport will humble you very quickly. Muay Thai has given me much direction as well. It gives me something to work towards every single day. I've also learnt that if you don't work hard you'll find that you'll get very little out of life.


What's your most memorable moment throughout your career so far?

I've been very lucky throughout my career to do a lot of travelling around Australia and Asia to fight and through that I've earned many memorable moments. One that constantly stands out is my first fight on Rebellion in Victoria. Which is one of Australia's premier shows. I was going up against a boy from Switzerland training out of Thailand at the time with a big KO record. 20KOs out of 21 wins in his 30 fights. I ended up going in there and knocking him out with a huge elbow that shattered his orbital, kept him in Melbourne for two weeks and the fight itself has reach almost 200k views on YouTube.

Tell us, what does a typical day look like for you?

I work as a full time coach at the gym I train at, Muay U, located in Fyshwick https://muayu.com.au/.
A normal weekday consists of classes and PTs in the morning. Then I go straight into training from 8-10am. This includes warmup, pads, bag work, sparring, clinching. I'll also have 3 strength and conditioning session in the afternoon during the week. This leaves me the middle of the day free to rest and recover. I'll be back at the gym between 2-3pm depending on the day for an afternoon session. Then I'll continue with PTs and classes into the evening. Unlike others, my days off are Thursday & Friday, which sees my training/work schedule change a little bit those days and over the weekends.


How do you refuel after training?

After training I rehydrate with some electrolytes and amino acids and as soon as I get home I'm straight into a meal from GMD, every day, without fail. I've been with GMD for about 10 months now and I still get excited driving home thinking about what meal I'm going to eat. I'm in the best shape of my career at the moment and the consistency and quality that GMD provides has played a big part in that.

What is your favourite GMD meal?

Something I love about GMD is they are always coming up with new, exciting and delicious meals. I find that I always have a new favourite meal.
Another super handy thing about GMD, since I'm in a sport where you have to be mindful of weight, is that you have the option to chose small or large meals. Along with options of Veg/Rice and Rice/Cauli Rice. Most of my favourites are the Thai ones (and it's not just because I do Muay Thai). The Thai Panang Curry, Cashew Chicken, Massaman and the new Chicken Pad Thai is absolutely delicious and has shot right to the top of my favourite list. GMD has become a big part of my training & recovery and I can't ever imagine going without them again.