ATHLETE SPOTLIGHT: Caleb Timbs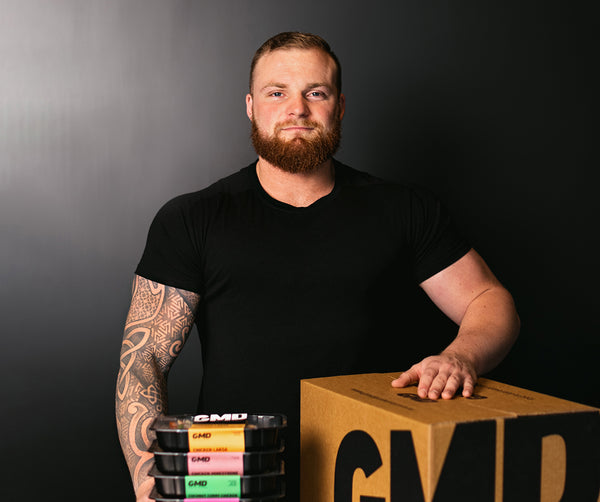 IFBB Bodybuilder, Athlete, Competitor & Certified Personal Trainer, Caleb specialises in training for everyone from beginners to those reaching to elite levels of fitness. 
Could you tell us a bit about yourself and your business, Berserker PT?
I was previously a national swimmer and used the gym to supplement my swimming. I then fell in love with the gym and began working on my physique to become the biggest and best of quality size I could be. 
I created Berserker PT last year and have been working out of Club Lime QBN since, I have an amazing client base that all love to work hard and strive to be the best possible versions of themselves, along with the training I recommend GMD for all of my clients and it is incredibly popular throughout.
What's a day of eating look like for you? 
Currently in Prep it ranges from my low days of 1750 Calories across to my high days of 3800 calories, all split across 6 meals a day.

What keeps you motivated? 
The thought of always pushing forwards and holding myself accountable to a high standard is what fuels me in and outside of the gym. But always remember that discipline, consistency and hard work will always trump using motivation as a tool.
How do you keep your clients motivated?
By reminding them that everything they do in and outside of the gym is 1 small step to their goals, and they should constantly be checking in on their short and long term goals.
Any advice for those looking to start hitting the gym?
Make sure you either research into movement patterns or hire a PT/Coach to help guide and teach you through the movements. Also make time to learn about the macronutrients and how they benefit your training/lifestyle.

How has GMD helped in your journey so far?
GMD has assisted me greatly since moving to Canberra a few years ago, they've helped me reduce the countless hours of meal prep so I can focus more on my business, training and cardio. And the meals taste amazing!
What are your favourite GMD meals?
My favorite meals would have to be the Butter Chicken, BBQ Pulled Beef and the Maple Protein Pancakes!