ATHLETE SPOTLIGHT: Tim Eaton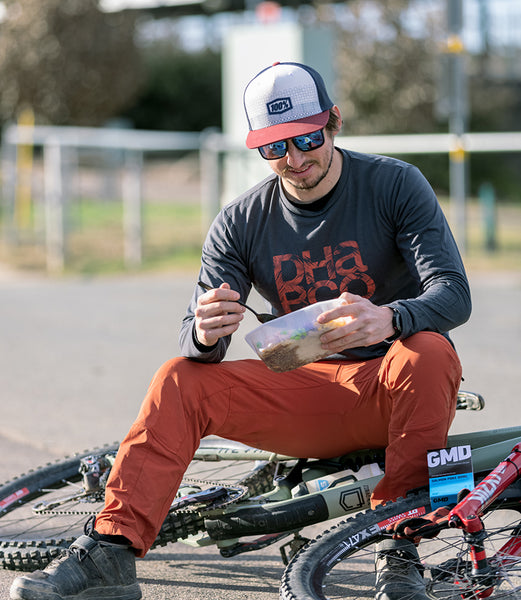 A full time Electrician and Elite Mountain Bike Athlete, Tim has been a GMD customer since 2018 and recently a GMD Athlete. With over 15 years racing experience he is the 2019 + 2020 Thredbo Super Enduro Champion, 2017 Thredbo King of Cannonball and the 2018 Enduro National Round Winner. Currently planning to start up a mountain bike Coaching business to help share his experience and knowledge.
How did you get involved in racing?
I started riding with some friends when I was about 16 years old. We went to a local club race and I fell in love with it instantly.
What keeps you motivated?
I love riding my bike, so if I wasn't racing I'd still be riding almost every day, but knowing you put in the effort and getting to stand on the top step of the podium is the best feeling ever. I have a great rivalry with a few good mates, and knowing they are grinding away leading into an event is always great for motivation!
Any advice for those looking to start riding competitively?
Rock up to any event and give it a go! There's categories for everyone, and the bigger the event, the bigger and better the atmosphere! The Thredbo Cannonball Festival is amazing for riders of all levels with heaps of different events, or if you're worried about huge crowds, start at your local club. Mountain biking is one of the best communities I've ever been a part of and everyone will welcome you!
What have you got planned for the rest of 2021?
I have a few big blocks of training coming up. I had a few events lined up but COVID has put a hold on those. I'll  be building up to race the Enduro World Series events in Tasmania and NZ at the beginning of next year.
What's a day of eating look like for you?
A day of eating for me usually includes some porridge or cereal for breakfast, some fruit as a snack, then a GMD meal for Lunch. When I get home usually some toast and avocado before training and then a home cooked meal or another GMD for Dinner if we've got a busy week! I do have a weakness for sweet treats as well, so sometimes they sneak their way in too.
How did you come across GMD?
Working full time and training once or twice a day made it really hard to get the time and motivation to meal prep. I've tried a few of the different ready meals out there but found myself coming back to GMD because of the variety and quality of the food, also they taste damn good!
How has GMD helped in your journey so far?
GMD has saved me so much time, which I can put into my training or just my mental recovery each day after working full time and training. I've never been big on cooking so I always hated the prep side of things, and this way it only takes me 5 minutes to order a huge variety of meals for the week which rock up on my door step on a Sunday arvo. It also means I don't have to think about going to the supermarket on a Sunday night after being away racing or doing activities all weekend!
What is your favourite GMD meals?
The Homestyle lamb, chicken and pumpkin risotto and the Korean beef bowl, love having the wide variety to have something different everyday, especially when i would never have cooked some of these dishes myself!