Where do I go to eat out and stay on track in Canberra?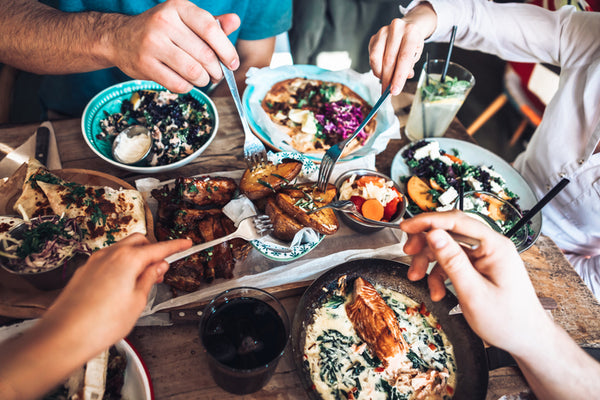 Alrighty all you foodies out there! Who loves to be a social butterfly and go out for all the foods with friends and fam? I mean, who doesn't?!  
Have you been finding it challenging to stay on track, whilst keeping that social life buzzing? 
I have a few pointers and tips to help out with this in the current circumstances!   
It seems as though a lot of people are on that 'isolation shred' or getting rid of that 'covid weight'. I keep hearing this so much lately! But, seeing as we aren't in full Victoria lock own mode, we want to take advantage of going out and enjoying ourselves, right!? So, what can we do to ensure we are still working towards those goals, whilst taking advantage of our positive situation here in Canberra? Here's a few tips: 
Check the menu before you go! (this creates preparation and minimise temptation if you choose what you are going to eat before hand)

 

Try and eat lean meals 

throughout the day, before/after you go out to eat! (this could include choosing a lean meal from GMD as your lunch like hard-core chicken, or the lower calorie options!)

 

Try sharing food with your friends/fam-this helps to include variety in your meal, taking advantage of going out and eating with people, but making sure you portion control!

 
Don't be afraid to ask for anything to be cooked/prepared in a certain way-they will more than likely do it for you if you ask! 

 
Now, there's a few tips for when you are at any type of café/restaurant. Now for a few specific places to go, that I have personally found great to easily stay on track, whilst enjoying eating out! 
Grilld

 Burgers (all macros available on website, you can choose low carb buns, gluten free buns, all types of meat and 

non meat

 options, salads, the list goes on!)

 

Guzman y Gomez (all macros available on website, and you can take things out/add food in to alter to your taste and your macros!)

 
Sushi-plain and simple, most will have their macros available to view online!

 

Assembly/most pubs in Canberra: assembly have an awesome menu for brekky, lunch and dinner. Breakfast range from simple poached eggs to granola options. For dinners, they offer 

grilld

 fish which is super low in calories, as well as the classic chicken 

schnitty

, which really isn't that 'bad' In macros when paired with vegetables! (even some sneaky chips, you're not looking at a hugely calorie dense meal!).

 

Yoghurt Land-sugar free delicious dessert option! Has dairy free options as well, all to meet the sugar tooth needs!

 
These are just a few of the various, popular places i find easiest to eat at whilst staying on track. Tried to make sure there is a brekky, lunch, dinner and dessert option in there. Remember, preparation is key when working towards fitness goals, so as long as your prepared for your 'eating out meal' and stick to leaner meals around them, you will not fall off track! We want to make sure there is balance in dieting, it doesn't have to be all that boring chicken and rice everyday!! 
- Bec